Dec 10, 2017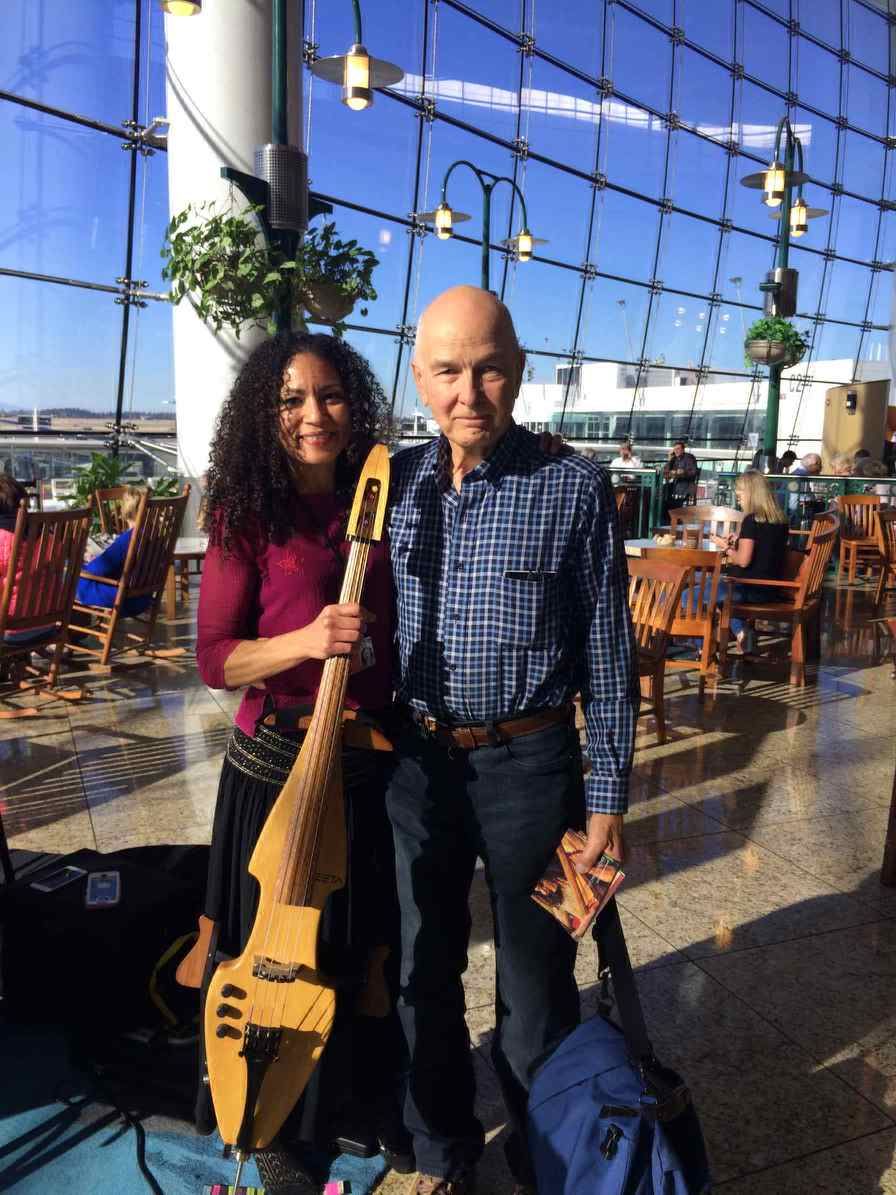 Dear Gretchen, 
I saw your instrument before I heard it, I think. My daughter, Shelley, and I were in transit from Kelowna in BC to a family gathering near Ashland, Oregon, on Saturday, October 21st. We had some layover time in SeaTac, so we walked the length of a long corridor, and at the end, where it became a kind of "T" I saw this amazing instrument that looked like a cello, but a cello with bulimia. I noticed right away the beautiful concentrated energy of the woman playing the instrument, and then I heard it as I got closer. The sound was magical, enchanting, and totally incongruous in a busy airport hallway. I listened, enthralled, and my daughter left me admiring the musician and her music, while she looked at expensive leather handbags across the hallway (with no intention of buying anything). When it was time for us to move on, and I saw that you had CDs for sale, I knew that I had to have one, "bridge over sound," the one that you were playing from. So I purchased it and took it with me to the family gathering. 
How I ended up at that place and moment in SeaTac is a long story. The short version is that I was adopted as a baby in Richmond, Virginia, discovered that I was adopted at the age of 22, searched for decades for my birth family, and after giving up hope entirely of ever finding them, was contacted 7 years ago by a niece from that family. She is called Cassandra, and is two months older than me! (I'll be 73 this March - a pisces) Her mother is my half-sister. My sister is now 95, and was accompanying Cassandra to the gathering. So I was taking my daughter, Shelley, to meet some of her birth relatives, and for me, seeing these relatives for probably the last time. I was diagnosed in April with ALS and the disease is relentless and fatal. 
Our accommodations were in two beautiful, furnished chalets at a lodge (Green Springs Inn) high up in the mountains east of Ashland. I had been there twice before for family reunions in very recent years. I was extremely pleased that I could make this trip, see my sister and several nieces and a nephew, and introduce my daughter to her family, Each chalet had a music player, so I put your CD in the player, and the sound was just as magical and soothing as when I heard you playing. My sister loved it, and so I gave her my precious CD to take home with her, to Louisville, Kentucky. 
On our return flight, four days later, we again had a layover at SeaTac. I was absolutely determined to search the airport for you, in the hope that you would be playing there somewhere. We heard your music before we saw you, and it guided us to where you were performing. I was thrilled to see and hear you playing again, and especially rewarded by being able to obtain both of your CDs, which you generously accompanied with a hug, and a photo (attached). 
The beauty of you and your music are as one. Thank you so much for sharing your wonderful talent and creativity with those who will listen. I wish for you great success, and confidence in your musical choices and pursuits. You have a most gracious spirit. 
With deep affection, 
Steve Rison 
Lake Country, BC
I searched for Steve online, and found his life dates. It was not a surprise, yet it still aches. Steve remains in my heart. 
Stephen Waddell Rison  March 13, 1945 ~ July 27, 2018 (age 73)